8 Celebrity Jumpsuit Looks
A jumpsuit is a simple yet versatile piece that you can style up or down. Celebrities are now celebrating the jumpsuit look more than ever because it's extremely comfortable to wear yet feels elegant and unique. A few accessory pieces can make your jumpsuit look extremely stylish to suit the occasion and here are how these celebrities styled them:
In this article, we'll analyze the look of eight fashion-forward celebrities who pulled off the jumpsuit look effortlessly. Here are some tips and inspiration ideas for the next time you decide to dress up a romper or jumpsuit!
Elizabeth Banks
Known for her funny and comedic roles, Banks managed to style this romper to look elegant without overdoing it. The blue sequin jumpsuit from Zuhair Murad's collection was her choice to the premiere of the "Power Rangers". She managed to turn heads with the bold cobalt blue color and the complementing embellished black belt. The structured shoulders suit the Power Rangers' theme well and the plunging neckline makes it extra sexy. 
Rita Ora
For a special occasion, you can mimic the look of Rita Ora in her sheer black jumpsuit. The wide-legged pants will elongate your body while the sheer fabric adds that little something that makes you the star of the event. The top part is covered in sexy fringes that give this look great movement. Although this isn't your typical casual look, this black sequin outfit is definitely perfect for festive or special occasions. The outfit has enough edge to it, so it's best to keep you accessories, hair and makeup simple and minimal. Pair this jumpsuit with the right heels and you'll look extra elegant. 
Vida Guerra
The is for the bold who are daring to pull off an all-white outfit. Vera Guerra is rocking this form-fitting jumpsuit with studs that make it look rocker-chic. The deep v-neckline gives this jumpsuit a sexy appeal but balanced with the classic white color. White is the perfect color to allow your accessories to pop. Here, Vera chose to wear nude Christian Louboutin heels with a beige clutch. However, you can always add a little pop of color by wearing red, blue or even black heels to complete the look. Everything will match white! 
Katy Perry
Katy Perry is known for her eccentric outfits, but here she opted for a classic option from Zuhair Murad. The elegant wide-legged pants with a high slit jumpsuit comes with double buttons on the chest area. Accompanied by the low scoop neckline, this design is as sexy as a jumpsuit can be. The thigh-high slit is extra sexy, especially if you wear the right heels. Wearing a collar or short necklace is a good choice when you're wearing a deep neckline like this one because it gives the illusion of a longer neck. You should avoid wearing too many accessories because the jumpsuit is a statement on its own. 
Emma Stone
In this look, Emma Stone combined simplicity with elegance in a signature piece from Stella McCartney. The dark blue asymmetrical silk jumpsuit is a suitable choice for dinners and luncheons as it looks elegant yet effortless. The puff sleeve is an excellent addition that makes this jumpsuit anything but boring. While Stone opted for a monotone outfit and choose heels and earrings in the same color, you can always experiment with your favorite heels because lots of shades work with dark blue. Some silver or gold jewelry will complement this color beautifully.
Janelle Monae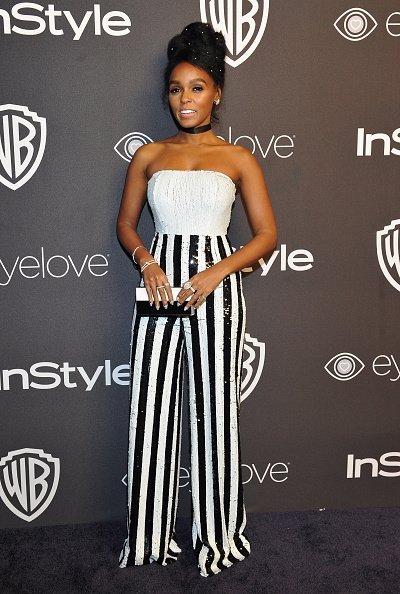 On special occasions, sequin is always a go-to to instantly make an outfit extra glitzy and glam. On this Golden Globe afterparty, Janelle Monae chose to rock the venue in her black and white jumpsuit. The white strapless bodice suits people who have narrower shoulders or want to attract the attention to their upper half. The bottom is made up of white and black striped sequin fabric that will make you look taller and slimmer. This is a look that works for someone who has an hourglass or pear-shaped body because it adds more balance to the bottom half and makes your figure look curvier. 
Jessie J
This look works best for those with a tall hourglass figure. The green glittery fabric moves smoothly which makes this jumpsuit look extremely feminine although it lacks definition. You can always add a belt to cinch in the waist or keep it as it is if you decided to go for a more relaxed, hippie look. Jessie J decided to pair it with a royal blue clutch to create contrast.
Draya Michele
This is an excellent look for a business dinner or date night because it's classic chic. Draya Michele wore this black and white polka dot print jumpsuit to a movie premiere but you can definitely wear something similar on a special occasion. The black clutch and the simple hairdo make her look professional, although you can add a pop of color to make it more fun and playful. There's a thin belt that accentuates the figure, making this a good choice for people who want to add more definition to the middle part of their bodies.
All these celebrities work with several fashion designers and stylists to look the way you see them. However, you can get inspired by their looks and choose one for your upcoming occasion. Fashion is all about expressing yourself so have fun with it!